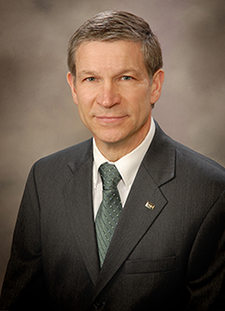 The Federal Reserve Bank of Cleveland announced appointments to its board of directors effective January 1, 2019. Eddie L. Steiner, president and chief executive officer of The Commercial & Savings Bank (CSB), and CSB Bancorp, Inc. was elected as a director for a term ending December 31, 2021.
According to the Cleveland Federal Reserve's website, "The Cleveland Fed, one of the 12 Reserve Banks of the Federal Reserve System, is overseen operationally and informed by a board of directors, whose members regularly share industry trends and geographic perspectives that help the Federal Reserve understand how various business sectors and communities are experiencing the economy. These regional insights, in turn, help inform national monetary policymaking. The Cleveland Fed's directors come from various backgrounds and experiences and hail from the district the Bank serves, which comprises Ohio, western Pennsylvania, the northern panhandle of West Virginia, and eastern Kentucky."
CSB Bancorp, Inc., Chairman of the Board, Robert K. Baker commented on Steiner's recent appointment; "We are very proud and honored to have our President elected to such a prestigious position within the Federal Reserve System. His ability to understand and communicate about our local economy, and the broader economy as a whole, is something we have always valued. He is a leader within our communities, and we know he will greatly contribute to the Federal Reserve System's understanding of the economic conditions within our district."
In addition to his director position on the Cleveland Fed, Steiner also serves as a director of the Ohio Bankers League. He previously served on the Banking Commission of the State of Ohio from 2013-2018, having been appointed by Governor John R. Kasich. He also served on the Community Depository Institutions Advisory Council (CDIAC) for the Federal Reserve Board of Governors (2013-2015) and on the Cleveland Fed CDIAC (2011-2015).
Locally, Steiner has served as a director of CSB since 2001, and became CSB's President and CEO in 2006 He serves on the boards of Wayne Economic Development Council and Main Street Wooster. He is also a Director and Chair of the Audit Committee of the Western Reserve Group, a mutual insurance company located in Wooster, Ohio. He is a licensed CPA and a graduate of the ABA's Stonier Graduate School of Banking. 
CSB has 15 locations in Holmes, Stark, Tuscarawas, and Wayne counties, and also serves customers online through high-touch technology and digital services. CSB has been an independent community bank since 1879, and is an equal housing lender and member FDIC. CSB is located on the web at www.csb1.com and can be reached toll-free at 1.800.654.9015.
Sources: https://www.clevelandfed.org/about-us/our-directors/cleveland-directors.aspx