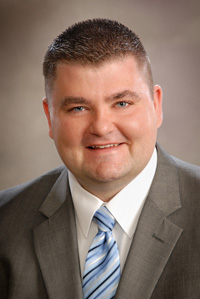 Eddie Steiner, President and CEO of The Commercial & Savings Bank (CSB), is pleased to announce the graduation of Brett A. Gallion, Senior Vice President from the Graduate School of Banking (GSB) in Madison, Wisconsin. Gallion graduated with honors and in the top 10% of the class in August of this year.
GSB's program provides a comprehensive course of study over a three year period, covering industry and management subjects designed to prepare mid and upper level financial services managers for positions of greater responsibility in their organizations. The program covers subjects directly relating to the leadership, management and operation of a financial services organization in an environment of competitive, regulatory, and technological change. 
"Brett's achievement at the Graduate School of Banking is commendable," stated Steiner. "His dedication and effort at GSB mirror his exemplary work and leadership at CSB and we are proud to have Brett as part of our senior management team." 
Gallion joined CSB in 2004 and has held a number of positions of increasing responsibility at the bank including branch manager, project analyst, project manager, Vice President, Senior Information Officer, and most recently, Senior Vice President, Senior Operations, and Senior Information Officer. Gallion graduated magna cum laude from Kent State University, with a Bachelor of Science degree in Business Administration. He is currently President of the Historic Downtown Millersburg board of directors and is active in the greater Holmes County community. Gallion resides in Millersburg with his wife Lisa.
CSB has 15 banking centers in Holmes, Wayne, Stark, and Tuscarawas counties and has been an independent community bank since 1879. CSB is an equal housing lender and member FDIC. CSB is located on the web at www.csb1.com and can be reached toll-free at 1.800.654.9015.